Singapore Night Festival 2017 - The Local People X Singapore Art Museum Art Market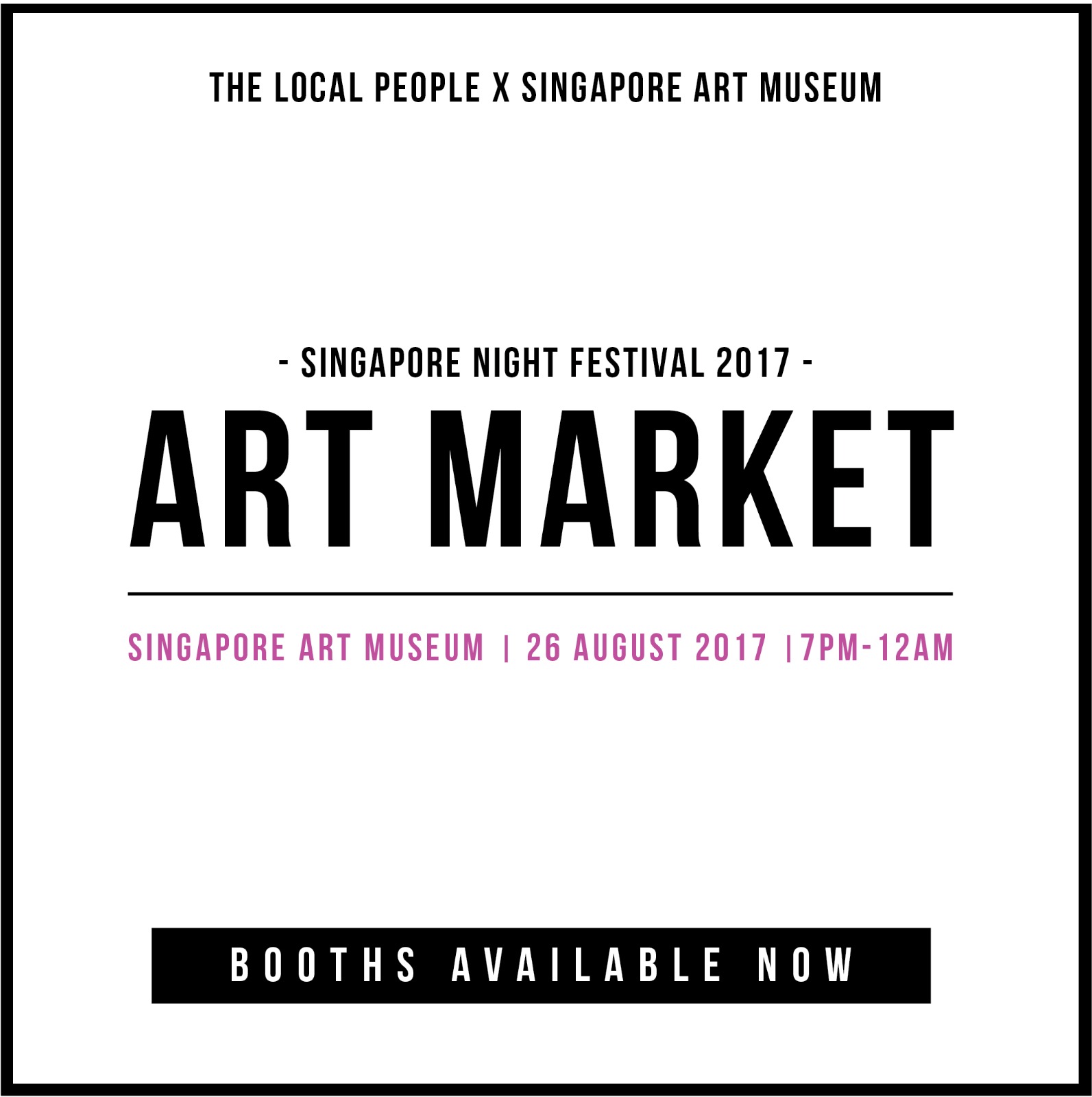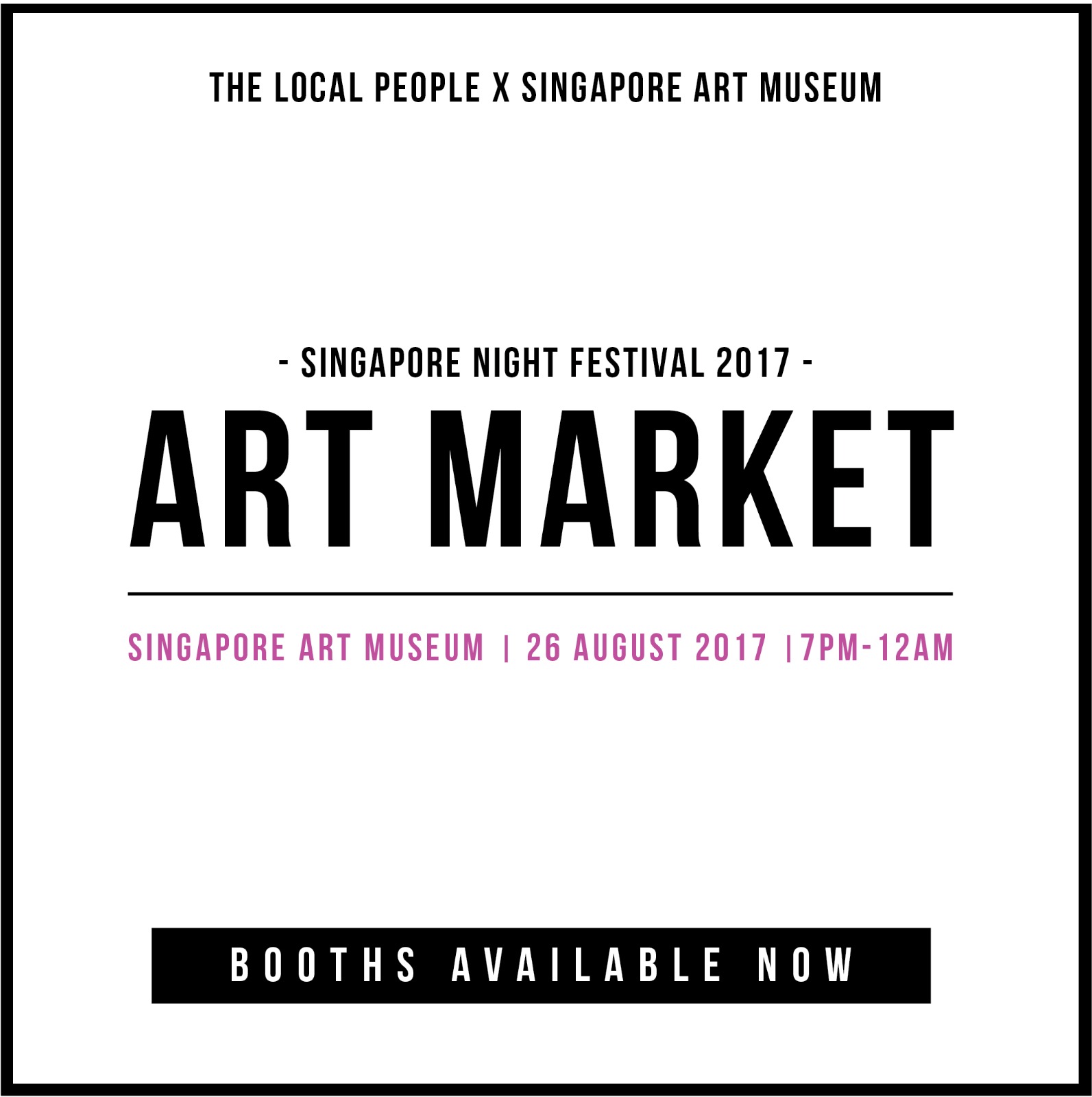 sold out
Singapore Night Festival 2017 - The Local People X Singapore Art Museum Art Market
The Local People owns the official trademark - Art Market™ in Singapore.
If you're a first-time event vendor, this event is perfect for local Singaporean designers, artists, food and beverage entrepreneurs who are just starting out. Gain a chance to test the market, gain consumer insight and sift out your competition.
PRICES STATED ARE FOR 1 EVENT DAY.
Date: 26 August 2017 (Saturday)
Time: 7pm - 12am
Location: Singapore Art Museum
More info on Singapore Biennale 2016: http://www.todayonline.com/entertainment/arts/spore-art-museum-reveals-details-singapore-biennale-2016
Please read all guidelines before purchasing a booth:
Please include your Instagram handle in your billing address name - E.g @thelocalpeoplesg
Outdoor (Sheltered Walkway) booth spaces are available
All booths are non-refundable
Only Singaporean made or designed Items are permitted for sale
Please keep your area clean and dispose your rubbish in the allocated bins
You are agreeing to The Local People's terms and conditions when purchasing a booth
Rain Or Shine Event
Booth locations are on a first come first serve basis
No Power Plugs are Available for this event
You are encouraged to bring your own battery operated lights to illuminate your booths
By buying a booth you are also allowing The Local People to use one Instagram or Facebook photo from your account to promote your items on @thelocalpeoplesg and www.facebook.com/TheLocalPeopleSG
Art Booths (For Students):
Art booths are booths for vendors selling artwork such as painting, canvas pieces, prints and installations
Art Booths are created especially for students
One 3ft by 3ft Table and 1 Chair
Art Booths:
Art booths are booths for vendors selling artwork such as painting, canvas pieces, prints and installations
One 3ft by 3ft Table and 2 Chairs
1 brand to one booth, no sharing of booths allowed
Retail Booths:
Example of retail booths are: jewellery, crafts, leather goods and other physically inedible objects
1 brand to one booth, no sharing of booths allowed
One 3ft by 3ft Table and 2 Chairs
Food Booths:
Please send in your food handler's certificate and IC to pingoh@thelocalpeoplesg.com
1 brand to one booth, no sharing of booths allowed
One 3ft by 3ft Table and 2 Chairs
Cooking is not allowed on site
All pre-packed foods only
Beverage Booths (Non-Alcoholic):
Please send in your food handler's certificate and IC to pingoh@thelocalpeoplesg.com
1 brand to one booth, no sharing of booths allowed
One 3ft by 3ft Table and 2 Chairs
Beverage Booths (Alcoholic):
Please send in your food handler's certificate and IC to pingoh@thelocalpeoplesg.com
1 brand to one booth, no sharing of booths allowed
One 3ft by 3ft Table and 2 Chairs
Alcohol License Provided for the event by TLP
Corporate Booths:
> 15 Salaried Staff
Enquiries email: pingoh@thelocalpeoplesg.com before purchasing
One 3ft by 3ft Table and 2 Chairs
Rules for Art, Retail and Food Booths Apply